COFFINS – THE FLESHLAND 2LP (Relapse Records)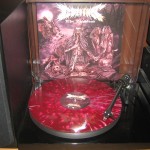 Coffins have released some amazing albums but 'The Fleshland' is their least-inspired effort to date. Compared to 'Mortuary In Darkness' and 'The Other Side Of Blasphemy', this is a particularly anaemic offering from my favourite Japs. That said, Coffins is still worthy of respect and their fourth full-length certainly isn't bad by any stretch of the imagination.
'Tormentopia' – the ninth and final track on 'The Fleshland' – is probably the cheesiest song this fine band has ever put its name to. However, to be fair, even on the wane, Coffins still pack a pretty potent punch; just a real shame they can't re-scale the horrific heights of those aforementioned first two records.
Evilometer: 444/666