RIDE FOR REVENGE – SINKING THE SONG LP (Bestial Burst / Final Agony Records)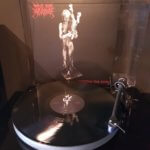 Returning with equal parts trepidation and anticipation to the weird, warped and wacky world of Harald Mentor to explore Ride For Revenge's seventh full-length offering, we discover that nothing has altered in the torture chamber. 'Sinking The Song' is for all purposes classic, depraved, utterly fucked up RFR; a twisted journey to a horrific and nightmarish destination so far removed from the outskirts of civilisation that one can almost taste the stale blood and crusted semen.
This album orbits around a diabolic diptych of lengthy offerings – the ten-minute title track and 16-minute massacre 'Horror In Heat' –  delivering three-quarters of an hour of deviancy and delirium in that trademark, crawling, funereal Ride For Revenge style, bass and drum heavy with human body parts everywhere, amputated limbs hammering off coffin lids, both sides, rumbling emissions signalling the imminent expiration of the torture victim.
Harking right back to the addictive sound of debut album, 'The King Of Snakes', 'Keep Your Children Safe' is a prime exhibit of the consistency and uniqueness of Finland's finest purveyors of noisy, ambient black death filth.
If a picture paints a thousand words, take a look at the photo of demented Harald on the inner part of the gatefold sleeve. The music itself represents more than a thousand; this record conjures madness, lunacy, sickness and sheer horror; celebrating and raising them aloft like trophies. The lyrics betray a troubled and perverse mind, tapping into that magical place where madness and genius collide in an eruption of blissful dark art.
Disgusting in every way and magnificent in every way.
Evilometer: 666/666