DEMONIC TEMPLE – THROUGH THE STARS AND INTO THE ABYSS (Putrid Cult / Dark Horizon Records)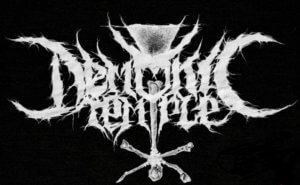 After the suitably ominous cosmic terror of the brief but unsettling intro that is 'Nox', the third Demonic Temple full-length detonates through the aeons on the teeming, twisted title track, one of four lengthy star-stripping journeys plotted across 'Through the Stars into the Abyss'. The Polish duo of N.D and M. (not that one…) deliver a disorientating degree of dissonance on this album, with reverent nods to Icelandic pacesetters Svartidauði and Sinmara clearly evident amid the unpredictable shards of extraterrestrial discordant delirium.
The opening strains of 'Night of Everlasting Fire' (and, indeed, the rest of it), for example, had me instantly thinking of Svartidauði, while Sinmara also popped into my mind more than once – never a bad thing – during the course of this rather immense album, which transcends naked plagiarism as 'Through the Stars into the Abyss' also incorporates elements of the wondrous Prava Kollektiv into its heady brew, not just through the space themes and artwork but also sonically, never venturing a million light years away from Voidsphere.
A deliberately subdued and stubborn production keeps proceedings the right side of underground, never detracting from the experience but somehow elevating it. The thunderous, omnipresent drumming is something of a paradox, hammering away relentlessly in both the foreground (cymbals, especially) and background. Demonic Temple have either resisted the temptation of going for a clean production or couldn't afford it … either way they have hit on the right balance of audible / inaudible that gives their music an authentic, abyssal, ancient, evil feel.
Some of the best-kept secrets lurk far away from hype and prying eyes / ears in the most forsaken pits and caverns of the Black Metal underground. As ever, the deeper you dig the more likely you are to find gems that are actually worthy of your time. The lengthiest and most ambitious offering, 'Secret Temple of Invisible Light', is also agruably the best, while the subtly-diverse and atmospheric 'Proclaiming the Truth of the Other Side' provides a fitting denouement to an excellent, accomplished piece of dark aural art.
Evilometer: 666/666